All the Things You Never Cared to Know about Bret Whissel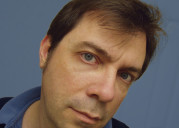 "There are more things in heaven and earth, Horatio, than are dreamt of in your philosophy." —Hamlet, act I, scene V
This statement by Hamlet reflects one of the principles of my own belief system: there is a whole lot more that is unknown about the universe than is known. It is often the case that a hard-sought answer brings with it even more questions, further evidence that life is the journey, and not the destination.
Warning: These pages plant a flag in the ether of cyberspace, proclaiming to the world that I exist. As such, information on this page is completely self-indulgent drivel: if you continue reading, you risk exposing yourself to high levels of inane, self-gratifying gibberish.
About My Job
I work in the IT department of Florida State University where I help to install and manage some of the University's infrastructure Unix systems. Previously, I had been a System Administrator and manager of the Systems Group of the Computer Science Department and Meteorology Department (now part of the Earth, Ocean and Atmospheric Science Department). I have also been a computer programmer/system administrator/research assistant/coffee maker for a research group in Meteorology which we called the Mesoscale Lab (for lack of a better name), since we investigated medium-scale weather phenomena such as thunder storms, tornadoes, and other such events. We also worked with weather radar.
About Me
I am Presbyterian, single, a Myers-Briggs E/INTJ, tend toward perfectionism, and try to do the right thing. I am interested in many aspects of music: composition, physics, acoustics, performance, listening to, psychology of, blah, blah, blah. Music is my first love, but my appreciation of it far outweighs my ability to create/perform it. I also enjoy cooking (mainly so that I can eat), reading, movies, theater, learning, conversation, introspection, star-gazing, and laughing. (Why does this stuff always sound like a personals ad?)
Brief History
I was born in New York, starting at Clarence Senior High (also my parents' high school) before moving with my family to Florida. After graduating from Dunedin High, I traveled with a group called Up With People, which is an international educational organization. In UWP I was the piano-player in the band of a cast of 100 people from 15 countries, and we performed a 2-hour show of song and dance. That year of traveling and the friends I've made will remain highlights in my life.
Following the UWP experience, I started pursuing a bachelor's in Music Education at Florida State University, but changed degree programs to Computer Science after two years. I also joined Delta Tau Delta fraternity during my freshman year and held several offices and chairmanships in the years I was an active. I kept very strange hours (most of my education occurred outside of a classroom), but there was always someone at the fraternity house willing to split a pizza with me almost any time of the day or night. While still in school, I worked for IBM in Boca Raton during the first PC rush of the early `80s through FSU's Cooperative Education program.
My first full-time job after graduating was at FSU's Center for Music Research, where I had cut my teeth as a programmer while an undergrad. I spent two years at CMR, and then returned to Up With People to work as a music director for a year. When I'd had enough of life on the road, I came back to FSU to work for Dr. Peter Ray in Meteorology, preferring a research environment to a corporate one. I accepted the position of Meteorology Department System Administrator in 2001.
Activities
I have been active at my church, Faith Presbyterian (PCUSA), where I have been a deacon, sing in the choir and several other ensembles, ring handbells, act as substitute organist (on occasion), accompany the Youth Choir, and participate in the work of several committees (committees are the bread and butter of being Presbyterian). I have also participated in mission and service trips to Washington D.C. and Atlanta. I am a great fan of the writings of C.S. Lewis, author of The Chronicles of Narnia and The Screwtape Letters, among other things. While I cannot compete with Lewis's depth or insight, I offer this personal theological reflection for your consideration.
I used to be active with the American Guild of Organists, but I no longer play enough to make membership worth while. Still, It is a tremendous thrill to be able to make a few modest toots on such a grand instrument as a pipe organ. There are a number of pieces I would like to work up to performance level before I die. Probably at top of the list is the Toccata in F (or sometimes Prelude) (BWV 540) by J.S. Bach.
I sing with the 250-voice Tallahassee Community Chorus, under the direction of Dr. André Thomas, which usually performs a few major works (and several smaller selections) with full orchestra annually. The Chorus had its debut at Carnegie Hall (yes, that Carnegie Hall!) in March 2004, and we went to Beijing, China in July 2007. In addition, I sing with the FSU Chamber Choir, also under the direction of Dr. Thomas. On several occasions these choruses have had the privilege of working under the baton of Robert Shaw, for many years a conductor and artistic director of the Atlanta Symphony. Mr. Shaw was intensely passionate about his art, and we shall miss him. Requiescas in pacem, Magister. I also served as accompanist for the Tallahassee Civic Chorale for a year while my good friend Debi Chandler was conducting.
I have been an actor, musician, and music director for some local theater productions with several different theater groups in and around town. In particular, I was "Joseph" in Joseph and the Amazing Technicolor Dreamcoat; rehearsal accompanist for Damn Yankees, L'il Abner, Joseph, and The Music Man; music director for Do Black Patent Leather Shoes Really Reflect Up? and Baby; and orchestra for Baby, Romance, Romance, A Funny Thing Happened on the Way to the Forum, Joseph, Damn Yankees, and L'il Abner. After a hiatus of several years, I put my music director hat back on for I Love You, You're Perfect, Now Change! in 2006. What a great cast and crew! In late 2006 I was also a music director/coach for the FSU USO Tribute Show which was produced in the FSU Circus tent.
I have worked with the "Guardians of the Light" children's chorus which raises money to support Child Advocates II of Tallahassee, a group which oversees the Guardian Ad Litem program. I even wrote a song which the kids performed.
I have served on the Board of Governors of the Up With People International Alumni Association as the Information Services chairperson (in other words, the resident computer geek). The BoG is an extremely dedicated group of volunteers who strive to keep the connections among UWP alumni going strong. It has been a lot of fun (and a lot of work!), and an extraordinarily rewarding experience to meet other UWP alumni, some of whom have achieved amazing things for themselves and others.
After having been a conferee for many years, I had an opportunity to serve on the faculty of the Montreat Worship and Music Conference in 2005. I had this opportunity because Eric Wall, the Conference Director that year, is a good friend who was in desperate need of someone with text-processing/music-typesetting computer skills (I used TeX and lilypond, by the way). That, and Eric thought it would be fun if Cindy Wendel and I could work together with the Children's Choir. (Cindy was the director, and I was the accompanist.) It was an awe-provoking experience, and I was delighted to have been invited to work on the conference again in June 2006 with conference co-directors Andra and Brant Copeland. After another decade, someone thought I had been a conferee for too long, and I was invited to serve on the planning team of the conference in 2016 under the leadership of John Wright. It was truly a privilege to support that amazing faculty. The W&M conference is sponsored by the Presbyterian Association of Musicians.